NGENGE-POSTGRAD SOLUTIONS IS HERE TO HELP YOU: NPGS has an Application Help Service that can help you find a position or prepare a CV or Cover Letter. Our professional experts can also apply for you from A to Z.
Deadline:  May 22, 2022.
Become a Post Doctoral Fellow For 2022 at the United Nations University (Paid Job)
Job description:
About UN University (UNU)
The United Nations University (UNU) is an international community of scholars engaged in policy-oriented research, capacity development and dissemination of knowledge, furthering the purposes and principles of the Charter of the United Nations. UNU's mission is to contribute, through research and capacity building, to efforts to resolve the pressing global problems that are the concern of the United Nations and its Member States.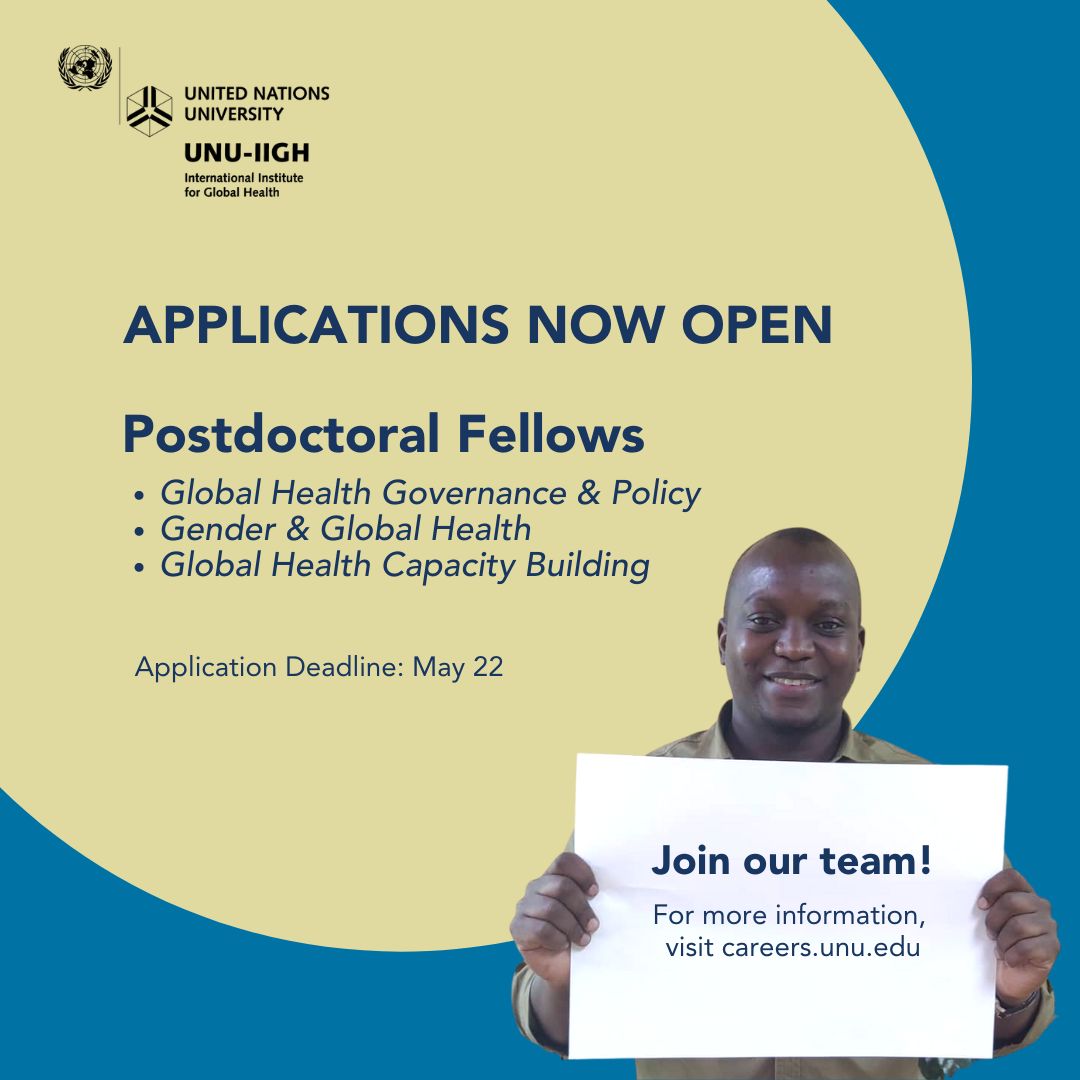 For the past four decades, United Nations University (UNU) has been a go-to think tank for impartial research on human survival, conflict prevention, sustainable development and welfare. With more than 400 researchers in 12 countries, UNU's work spans the 17 Sustainable Development Goals, generating policy-relevant knowledge to effect positive global change. UNU maintains more than 200 collaborations with UN agencies and leading universities and research institutions across the globe.
About Institute (UNU-IIGH)
UNU-International Institute for Global Health is one of 14 research and training Institutes that comprise the think tanks in the UNU system. UNU-IIGH was established in 2005 with the mission to advance evidence-based policy on key issues related to sustainable development and global health. UNU-IIGH aims to build knowledge and capacity for decision making by UN agencies, UN programmes and Member States towards the achievement of the Sustainable Development Goals.
Leveraging its position within the UN, UNU-IIGH works with a network of academic, policy and civil society experts to serve as a platform for critical thinking and exchange of knowledge and tools for policy influence and consensus-building.
The 2019-2023 Strategy for UNU-IIGH shifts the Institute's body of work from investigator-driven global health projects to priority-driven, policy-relevant pillars of work. The Institute's mission is to build knowledge and capacity for decision-making by UN agencies, UN programs and Member States about global health issues. The goal of UNU-IIGH is to advance equitable and evidence-based policymaking on crucial issues related to sustainable development and public health, through three pillars of work:
1) translating evidence into policy,
2) generating policy-relevant analysis related to gender and health, and
3) strengthening capacity for local decision making.
The current work of the Institute includes conducting research, promoting policy change and facilitating policy implementation around a number of global health topics including gender and health; decolonisation and global health governance; health systems policy; implementation research in health; digital health; communicable disease control; the commercial determinants of infant and young child feeding; and health equity.
UNU-IIGH's Postdoctoral Fellowship Programme
UNU-IIGH is recruiting three Postdoctoral Fellows to contribute to the Institute's programme of work. Unlike postdoctoral fellowships in conventional universities, the UNU-IIGH postdoctoral fellowship programme is geared towards applied research and allows Fellows to gain exposure to the world of international policy-making in global health and the UN system in particular.
The responsibilities of the post-holder will include:
Conducting research in support of the Institute's programme of work
Drafting and helping to finalise research outputs of various kinds
Helping to convene multi-stakeholder meetings and discussions
Representing the Institute in meetings and forums
Contributing to the information, education and communication activities of the Institute
Contributing to the routine management and administrative tasks of the Institute
Postdoctoral fellows are treated as professional employees of the organisation and expected to take responsibility for significant pieces of work in line with the values, mission and objectives of the Institute, under the supervision of senior staff. At any one time, the Institute hosts between four and seven Fellows, thus providing an opportunity for considerable peer learning and support.
Postdoctoral fellows are expected to be resident in Kuala Lumpur during their fellowship where they will enjoy an excellent multicultural environment and opportunities to interact with scholars and policy makers from different countries and diverse educational backgrounds.
Specifically, we are looking to recruit one post-doc for each of the following themes:
Synthesising evidence and producing working papers and policy briefs related to global health governance and international health policy. A research background in global public health, international relations, global health governance, health financing and political economy would be relevant.
Synthesising policy-relevant evidence and producing working papers and policy briefs on interventions and promising practices for integrating gender into health programmes and policies. A research background and/or experience of gender issues as they relate to health programmes, health systems and policies would be relevant.
Building capacity of researchers, policymakers and civil society organisations in the Global South through training and production of manuals and other knowledge products. Demonstrated experience with implementation research in health, gender health, systems thinking, and foresight methods would be relevant.
Key performance indicators
Timely production of high-quality research and research outputs
Demonstrable improvements in project management competencies
Successful organization of meetings with external stakeholders
Development of improved working relationships with research partners, member state governments, donors, and civil society organizations
Competencies
Values:
Inclusion — take action to create an environment of dignity and respect for all, regardless of age, culture, disability, ethnicity, gender, gender identity, gender expression, geography, grade, language, nationality, racial identity, religion, sex, sex characteristics, sexual orientation, social origin or any other aspect of identity
Integrity — act ethically, demonstrating the standards of conduct of the United Nations and taking prompt action in case of witnessing unprofessional or unethical behaviour, or any other breach of UN standards
Humility — demonstrate self-awareness and willingness to learn from others
Humanity — act according to the purposes of the United Nations: peace, dignity and equality on a healthy planet
Behaviours:
Connect and collaborate — build positive relationships with others to advance the work of the United Nations and work coherently as One UN
Analyse and plan — seek out and use data from a wide range of sources to understand problems, inform decision-making, propose evidence-based solutions and plan action
Deliver results with positive impact — hold oneself and others accountable for delivering results and making a positive difference to the people and causes that the United Nations serves
Learn and develop — pursue own learning and development and contribute to the learning and development of others
Adapt and innovate — demonstrate flexibility, agility and the ability to think and act in novel ways
Qualifications
Education and certification
Required
PhD in public health or relevant field (completed within the last five years), or an MD with a relevant Masters' degree. Applicants who have submitted their PhD but have not yet been awarded their degree may also be eligible to apply.
Experience
Required
At least two years of professional experience in public health research, policy, or programming
Familiarity with systematic approaches to searching and evaluating scientific literature
Demonstrated competencies in both quantitative and qualitative research design, data analysis and interpretation
Experience with policy-relevant research, including formulating of policy-relevant research questions and/or undertaking policy analysis
Experience with writing peer-reviewed articles and policy briefs
Excellent time management skills
Ability to work independently
Desired
Familiarity with gender-responsive research and/or programming
Experience in working on interdisciplinary research projects
Knowledge of global health governance structures and processes
Knowledge of implementation research and systems thinking approaches
Experience of work in a low- and middle-income country setting
Language Requirements
Oral and written fluency in English is required
Knowledge of another UN official working language is an asset.
Remuneration
The successful candidate will be employed under a PSA contract and no allowances apply. UNU offers an attractive compensation package including a monthly salary of US$3,028.92, commensurate with the experience and qualifications of the candidate. Benefits include 30 days of annual leave and a health insurance scheme.
For IPSA, UNU will cover the cost of travel of the individual to the duty station, as well as their return to their home upon completion of their services. Travel costs are covered only in the event that the function will be undertaken physically in the duty station and excludes working from home arrangements.
UNU is not liable for any taxes that may be levied on the remuneration you receive under this contract. Payment of any such taxes remains the sole responsibility of PSA holders.
Duration of contract
This is full-time employment. The duration of the initial contract is 1 year, which can be extended for an additional 12-month period.
Expected start date: 1 July 2022
How to Apply:
To apply to UNU, you will not need an account. Instead, we ask that you:
Apply via the apply link;
fill out the UNU P11 form (please avoid using similar forms provided by other United Nations organisations);
provide a motivation statement (in the P11 form); and
answer a few questions that are tailored to the position.
You may wish to refer to the UN Values and Behaviours Framework for more information.
Assessment
Evaluation of qualified candidates may include an assessment exercise which may be followed by a competency-based interview, background checks and references.
Special notice
PSA holders do not hold international civil servant status nor are they considered a "staff member" as defined in the UN Staff Rules and Regulations.
UNU is committed to diversity and inclusion within its workforce and encourages all candidates, irrespective of gender, nationality, religious and ethnic backgrounds, including persons living with disabilities to apply and become part of the organization. Applications from developing countries, and from women are strongly encouraged. Eligible internal applicants are also encouraged to apply.
UNU has a zero-tolerance policy on conduct that is incompatible with the aims and objectives of the United Nations and UNU, including sexual exploitation and abuse, sexual harassment, abuse of authority and discrimination.
Information about UNU rosters
UNU reserves the right to select one or more candidates from this vacancy announcement. We may also retain applications and consider candidates applying to this post for other similar positions with UNU.
Scam warning
UNU does not charge any application, processing, training, interviewing, testing or other fee in connection with the application or recruitment process. Should you receive a solicitation for the payment of a fee, please disregard it. Furthermore, please note that emblems, logos, names and addresses are easily copied and reproduced. Therefore, you are advised to apply particular care when submitting personal information on the web.
Apply here: